Perfect Liver Detox Support
An herbal cleansing formula, designed without synthetic nutrients, to support and maintain healthy liver function with clinically studied herbs and superfoods.
Perfect Liver Detox Support
We've explained that toxins are unavoidable and carry significant health risks and went on to explain how our liver does an admirable job trying to get toxins out of our body.
Would You Use a Fire Extinguisher Filled with Gasoline?
Of course not! Yet when Dr. Erica LePore, looked for supplements to help support the liver, all she found were supplements filled with synthetics and chemicals. Trying to detoxify the body by using chemicals is like using a fire extinguisher filled with gasoline!
Dr. LePore is a Naturopathic Doctor with over 14 years of experience helping thousands of patients feel their best through a science-based detoxification program. Her research pointed to a number of natural ingredients proven to provide liver support, without the harmful side effects of chemicals and synthetics. Dr. LePore collaborated with Perfect Supplements to come up with an all natural, safe, and effective liver detox supplement: Perfect Liver Detox Support.
The All Natural Detox Supplement You've Been Waiting For
Perfect Liver Detox Support is an all natural, doctor-formulated, herbal blend that is designed to support and maintain healthy liver function.
This unique combination of clinically studied herbs and superfoods – milk thistle, artichoke, schisandra berry, broccoli sprouts, turmeric, cilantro, and chlorella – enhances both Phase 1 and Phase 2 liver detoxification.
This cleansing formula is designed without synthetic nutrients to support and maintain healthy liver function while providing powerful antioxidant protection. Milk thistle, artichoke, schisandra berry, broccoli sprouts, and turmeric provide the body with an herbal source of antioxidants that aid in detoxification, while also protecting the liver cells from environmental pollutants and contaminants as they are cleared from the body. The addition of cilantro and chlorella help to bind and eliminate heavy metals. Perfect Liver Detox Support may be used as a daily protective boost from excess toxin exposure or as part of a clean diet and detoxification program.
What Makes Perfect Liver Detox Support… Perfect?
We appreciate that you have many choices when it comes to buying supplements. Here is why our Perfect Liver Detox Support stands head and shoulders above the rest:
It's Doctor Designed and Endorsed.
Erica LePore, Naturopathic Doctor, a 2000 graduate of Bastyr University in Seattle, WA, personally formulated this detoxification supplement. For over 14 years, Dr. LePore has guided thousands of patients through a science-based detoxification program developed through her research and experience. Her patients have been amazed by the results achieved by following her detox plan. They have achieved numerous health transformations including improvements in body weight, cholesterol, chronic fatigue syndrome, fibromyalgia, gluten intolerance, sleep disturbances, indigestion, GERD, arthritis pain, headaches, skin conditions, and menopausal and premenstrual symptoms.
All herbal products are not created equal. Some manufacturers use inexpensive herbal ingredients extracted with toxic solvents that are detectable in the final product. Now that's defeating the point, isn't it? Each herb in Liver Detox Support is tested for authenticity, potency, stability, and contaminants including heavy metals, aflatoxins, bacteria, yeast, and mold counts, and solvent, herbicide and pesticide residues. This product is guaranteed to be clean.
The suggested use of Perfect Liver Detox Support provides the right component and amount of each herb, clinically studied to produce the desired results.
All of the included herbs are backed by scientific research proving their efficacy and use. Together they provide the support your liver needs to maintain and enhance its function.

How Might You Benefit From Detoxifying Your Liver?
If you have been reading our articles on the harmful effects of toxins in the body, the question should be: 'How can you NOT benefit from detoxifying your liver!' While health benefits will vary from person to person, here are some potential benefits from Perfect Liver Detox Support*:
Support the liver's natural detoxification process
Improve elimination of heavy metals and pollutants from the body
Protect the liver from toxins
Promote healthy cholesterol levels
Provide powerful antioxidants
Reduce inflammation
Promote healthy blood sugar levels
Promote healthy skin
Improve digestion
Boost the immune system
A Little Bit of Love for Each Ingredient!
We are so proud of every ingredient in the Perfect Liver Detox Support, we want to tell you more about the research and why we added each ingredient. While each individual ingredient is great, it is the synergistic blend of all the ingredients that makes Perfect Liver Detox Support stand above the crowd.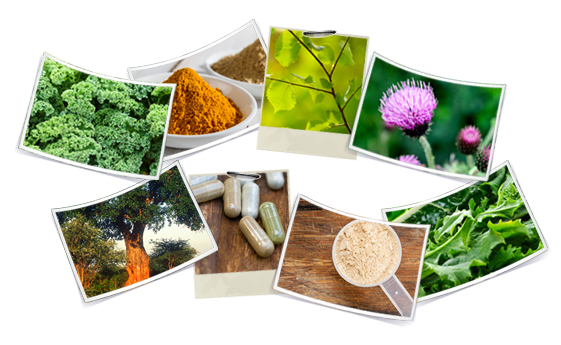 Perfect Liver Detox Support
*These statements have not been evaluated by the Food and Drug Administration. This product is not intended to diagnose, treat, cure, or prevent any disease.