Perfect Desiccated Liver Is The World's First and Only Glyphosate Residue Free Certified Desiccated Liver
Northampton, MA (12/12/19) – Perfect Desiccated Liver is now the world's first and only desiccated liver to receive the Glyphosate Residue Free Certification from the Detox Project.
As glyphosate is the most commonly used herbicide in the world AND a probable human carcinogen (International Agency for Research on Cancer), it is crucial that consumers limit their exposure to glyphosate.
In order to receive the Glyphosate Residue Free Certification from the Detox Project, Perfect Desiccated Liver had to be tested by an ISO 17025 accredited lab and show no glyphosate residue down to the U.S.'s government-recognized limits of detection for food and supplements, 0.01 ppm (parts per million).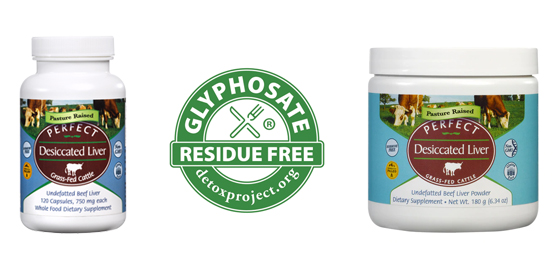 A Commitment to the Purest Ingredients on the Planet
Perfect Supplements is passionate about searching the planet for all natural, nutrient dense, ethically sourced superfood ingredients. Perfect Desiccated Liver is obtained solely from healthy free range cows that feed exclusively on rapidly growing green grass that sprouts from rich Argentinean soil.
Perfect Desiccated Liver has been the leading desiccated liver brand for the past 6 years and is the exact brand recommend by Tim Ferriss and Dave Asprey. Now with the Glyphosate Residue Free Certification, demand for the product is expected to skyrocket.
"Our desiccated liver has always been a top seller, but that never stops us from trying to make a product more perfect. We couldn't be more thrilled to now have the world's first and only certified glyphosate residue free desiccated liver. I sincerely hope that other companies follow our lead, get certified and join in the efforts to remove glyphosate from our food supply" states Kristen Morelli, co-founder of Perfect Supplements.
In addition to the Glyphosate Residue Free Certification, Perfect Desiccated Liver is also fully tested for heavy metals with the full lab results publicly available on the site for all to see.
Glyphosate Found in 93% of People Tested
The issue with glyphosate in our food supply is real and only getting worse. A recent study found that 93% of Americans tested had glyphosate in their urine. Even more alarming, a study tracking individuals from 1993 to 2016 found glyphosate levels increased by over 500% during that time period.
Click here to read more about the studies and the risks associated with glyphosate.
To Be Safe, Look For 3rd Party Certifications and Full Transparency
Morelli explains, "Part of the Glyphosate Residue Free Certification is a requirement to continue to test our desiccated liver at various points throughout the year. This ongoing 3 rd party testing helps the consumer understand, when they see the Glyphosate Residue Free Seal on a supplement, they can feel very safe enjoying that product."
Perfect Supplements encourages consumers to look for the Glyphosate Residue Seal when shopping for liver. Here is the seal they should look for –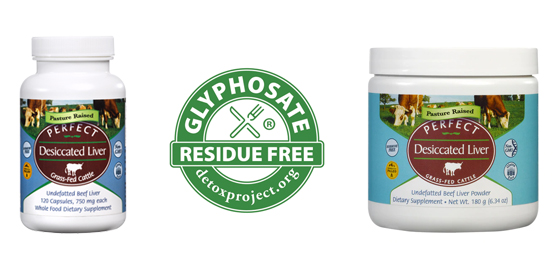 In addition, it is important to see full heavy metal testing and complete lab analysis on supplements as well. All of this can be found on the Perfect Desiccated Liver product page.
Morelli concludes, "For consumers, finding a desiccated liver supplement that is packed with nutrients is certainly a great first step. What is key to understand is that when it comes to supplements, what is NOT present in the product, can be as important as what is in the product. After all, consumers taking liver supplements are looking to improve their health, the last thing they want to do is ingest glyphosate and heavy metals."
Reference:
Perfect Desiccated Liver Glyphosate Residue Free Certification