Magnesium 101
What is Magnesium and Why Is Everyone Saying It's Good For Me?
Magnesium is a mineral, aka an element, that is found in abundance in the natural world. For perspective, in nature there are 92 naturally occurring elements; of those, over 90% of the Earth's land mass is primarily composed of only four: iron, oxygen, silicon, and magnesium.
Similarly, magnesium is abundantly used by the human body. Magnesium is naturally present in many foods, at times it is added to other food products, and it can be taken as a dietary supplement. An adult body contains approximately 25g of magnesium, with 50% - 60% contained in the bones and the rest in soft tissues.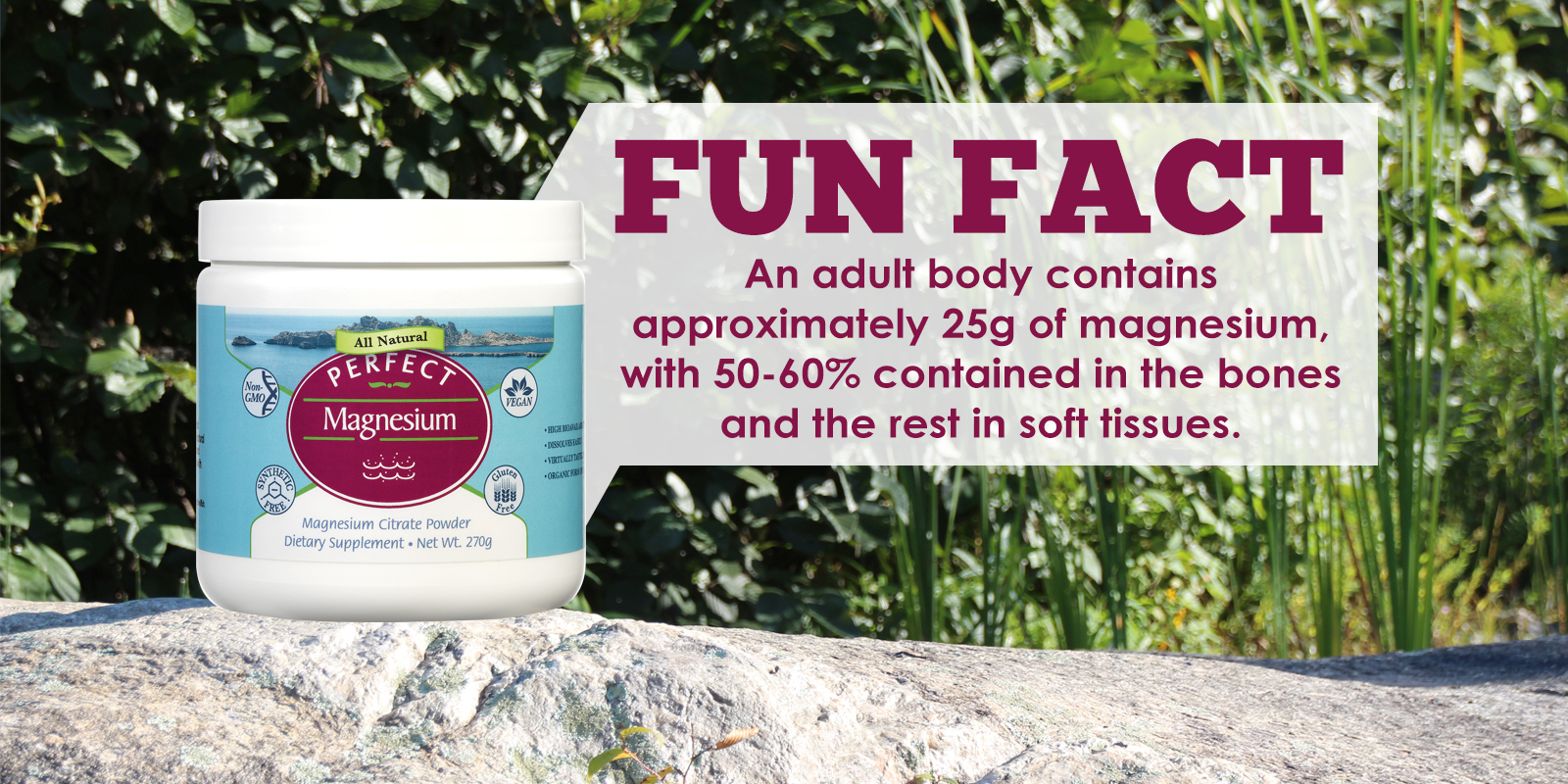 How does Magnesium Work in the Body?
A quick search of PubMed yields thousands of scientific studies highlighting the role and benefits of magnesium in human biochemistry. From migraines and pain management to depression, anxiety, sleeplessness and memory, magnesium has demonstrated enormous versatility as a healing mineral.
This mineral actually helps to activate over 300 biological enzymes; the catalyst for every function in the body. Magnesium is crucial for many different biochemical actions in the body — it is even central in protecting against various viruses and bacteria via maintaining immune system function.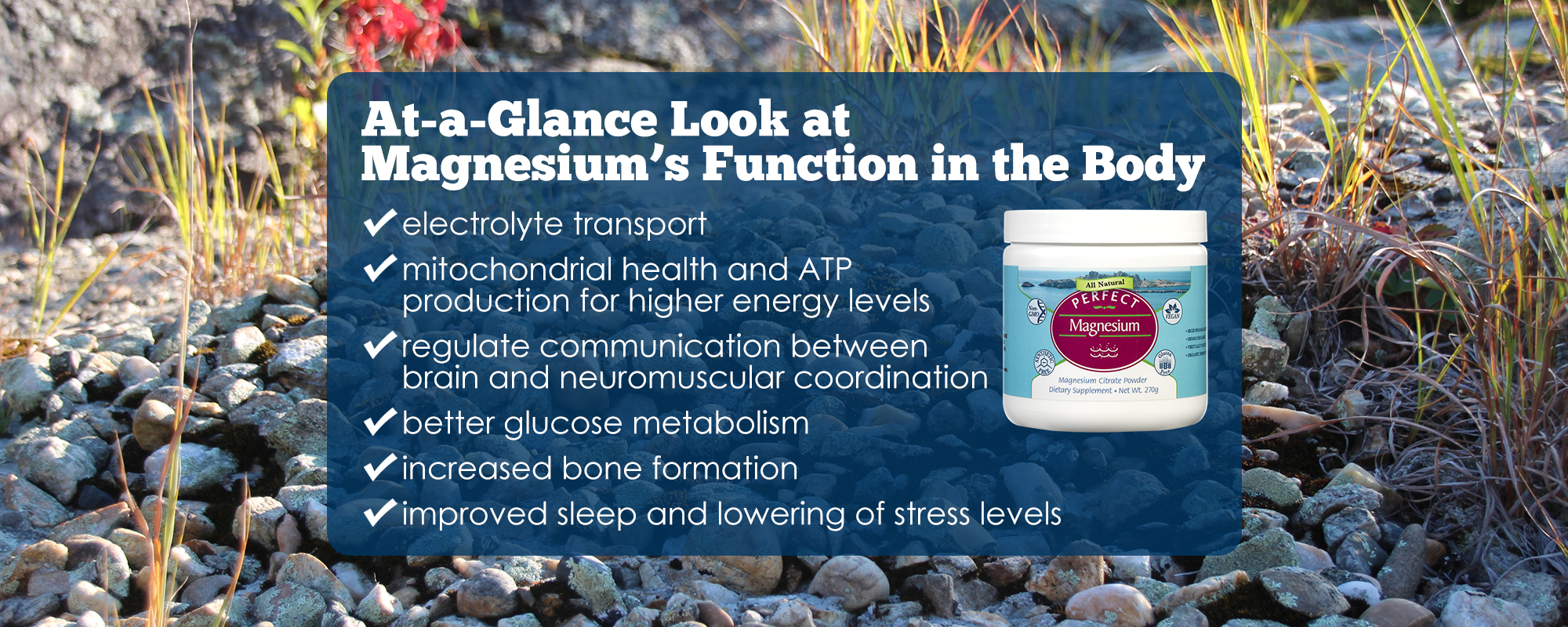 At-A-Glance look at Magnesium's Function in the Body:
Magnesium is needed for electrolyte transport across cellular membranes — key to effective nerve conduction, muscle contraction, and cardiac function.(1)
The role magnesium plays in mitochondrial health and ATP production is key to maintaining our daily energy levels.(8)
The brain needs magnesium to regulate communication between neurons and neuromuscular coordination.(2)
Researchers have also begun to show the relationship between maintaining healthy magnesium levels and improved sleep and the lowering of stress levels.(3, 4)
Magnesium also plays a pivotal role in glucose metabolism, which may explain why researchers have found that diets high in magnesium are generally associated with a lowered risk of diabetes.(1, 5, 6)
Magnesium is directly linked to bone formation. Both of the major bone-building hormones - parathyroid hormone and the active form of vitamin D (which is technically classified as a hormone) - rely on magnesium to influence their blood level concentrations.(7)
References:
National Institute of Health Fact Sheet for Health Professionals on Magnesium:https://ods.od.nih.gov/factsheets/Magnesium-HealthProfessional/
Anna E. Kirkland,1Gabrielle L. Sarlo,1 and Kathleen F. Holton2,3,* The Role of Magnesium in Neurological Disorders. Nutrients. 2018 Jun; 10(6): 730. https://www.ncbi.nlm.nih.gov/pmc/articles/PMC6024559/
Jacka F.N. et al)"Association between magnesium intake and depression and anxiety in community-dwelling adults: the Hordaland Health Study" Australian and New Zealand Journal of Psychiatry Volume 43, Issue 1, 2009
Held K., Antonijevic I.A., Künzel H., Uhr M., Wetter T.C., Golly I.C., Steiger A., Murck H."Oral Mg(2+) supplementation reverses age-related neuroendocrine and sleep EEG changes in humans."Pharmacopsychiatry. 2002 Jul;35(4):135-43.
Larsson SC, Wolk A. Magnesium intake and risk of type 2 diabetes: a meta-analysis. J Intern Med 2007;262:208-14.[PubMed abstract]
Rodriguez-Moran M, Simental Mendia LE, Zambrano Galvan G, Guerrero-Romero F. The role of magnesium in type 2 diabetes: a brief based-clinical review. Magnes Res 2011;24:156-62.[PubMed abstract]
Aydin H, Deyneli O, Yavuz D, Gözü H, Mutlu N, Kaygusuz I, Akalin S. Short-term oral magnesium supplementation suppresses bone turnover in postmenopausal osteoporotic women. Biol Trace Elem Res 2010;133:136-43.[PubMed abstract]
Dean, C. MD. ND.(2014).The Magnesium Miracle: discover the missing link to total health. Ballantine Books: NY, New York.
Thirsty for More Knowledge?...
Continue reading our Next Article in this Series: Magnesium Deficiency: Happening to a Human Near You!