Perfectly Healthy Hair
Hair Loss: Good News and Bad News
Let's dive head first into the topic of hair loss, hair shedding, and unhealthy hair follicles…
There are various types of hair loss or follicle issues that one may experience in their lifetime. Whether sudden or gradual it is a very concerning situation for most. Will my hair grow back? How long will it take? Is there anything I can do? This article suggests some lifestyle and nutritional actions you can take to support a healthy head of hair.
Three Typical Causes of Hair Loss and Weakening
Environmental(exposure to toxins, harsh chemicals, drug interactions, injuries, stress, poor general nutrition)
Medical(stress from viral infections, autoimmune conditions, hormonal issues, nutritional deficiencies, psychological)
The good news is that studies on hair loss due to environmental or medical reasons show a change in diet and lifestyle can have a positive effect on hair health including regrowth.
3. Genetics and Age. Unfortunately, the bad news is that the cure for male pattern baldness has not yet been discovered. Some experts feel that diet and lifestyle changes may help slow down the process of male pattern baldness or hair loss due to very old age, but it is not a guarantee and results can vary.


A note on"COVID Hair Loss" There is a new term going around called"COVID Hair Loss" that references to a non-scaring hair loss usually occurring 3 months after infection and lasts up to 6 months. Viruses and corresponding high fevers can cause a lot of stress on the body and can sometimes cause temporary hair loss or thinning. A review of 15 studies of the long-term effects of COVID-19 found that 25% of patients developed temporary hair loss.
Fun Fact:
The technical term for hair shedding due to high temperatures associated with a viral infection is called 'telogen effluvium'. You can thank us if this is ever a trivia question in your future.
Pull Test and Tug Test This simple test measures the severity of hair loss. During a pull test, a dermatologist grasps small sections of hair, about 40 strands, from different parts of the scalp and gently tugs. If six or more strands fall out, you have what's known as active hair loss.
Hair Loss: What Can You Do?
Actions you can start today to help achieve a healthy head of hair include …
Remove Environmental Culprits Take a look at anything applied to the head(shampoos, dyes, etc. ) for harsh chemicals that may be affecting follicle health and switch to a more natural product. Take a break from dying, straightening, or tight hair styles. Create a stress free environment as much as possible during the healing and regrowth process.
Eat A Nutrient Dense Diet It is advised by most health professionals to cut out sugar and artificial ingredients in foods as much as possible. Heating a healthy, clean, whole food diet and good amounts of the foods suggested below can help support healthy hair. Supplementation of key nutrients for hair growth is also highly advised. Key nutrients include
Protein- A low-protein diet puts hair growth in a"resting" phase, which can lead to hair loss and less hair growth.
Biotin- Being low on biotin has been linked to hair loss, as well as loss of hair color.
Vitamin C- can help to protect hair follicles from free radicals and can support a strong immune system. Vitamin C also helps your body absorb iron and collagen, essential elements for hair growth.
Zinc, selenium, magnesium- essential trace elements that your body can't make, so it's important to get them through foods or supplements. These trace elements are important for hair growth, and being low on them may lead to hair loss
Collagen- provides essential proteins and amino acids for hair health and growth. Reduces inflammation in the body and is vital for gut health which can help with absorption of vitamins and minerals.
Omega Fatty Acids- Reduces inflammatory responses in the body. Hydrates hair and increases circulation to hair follicles.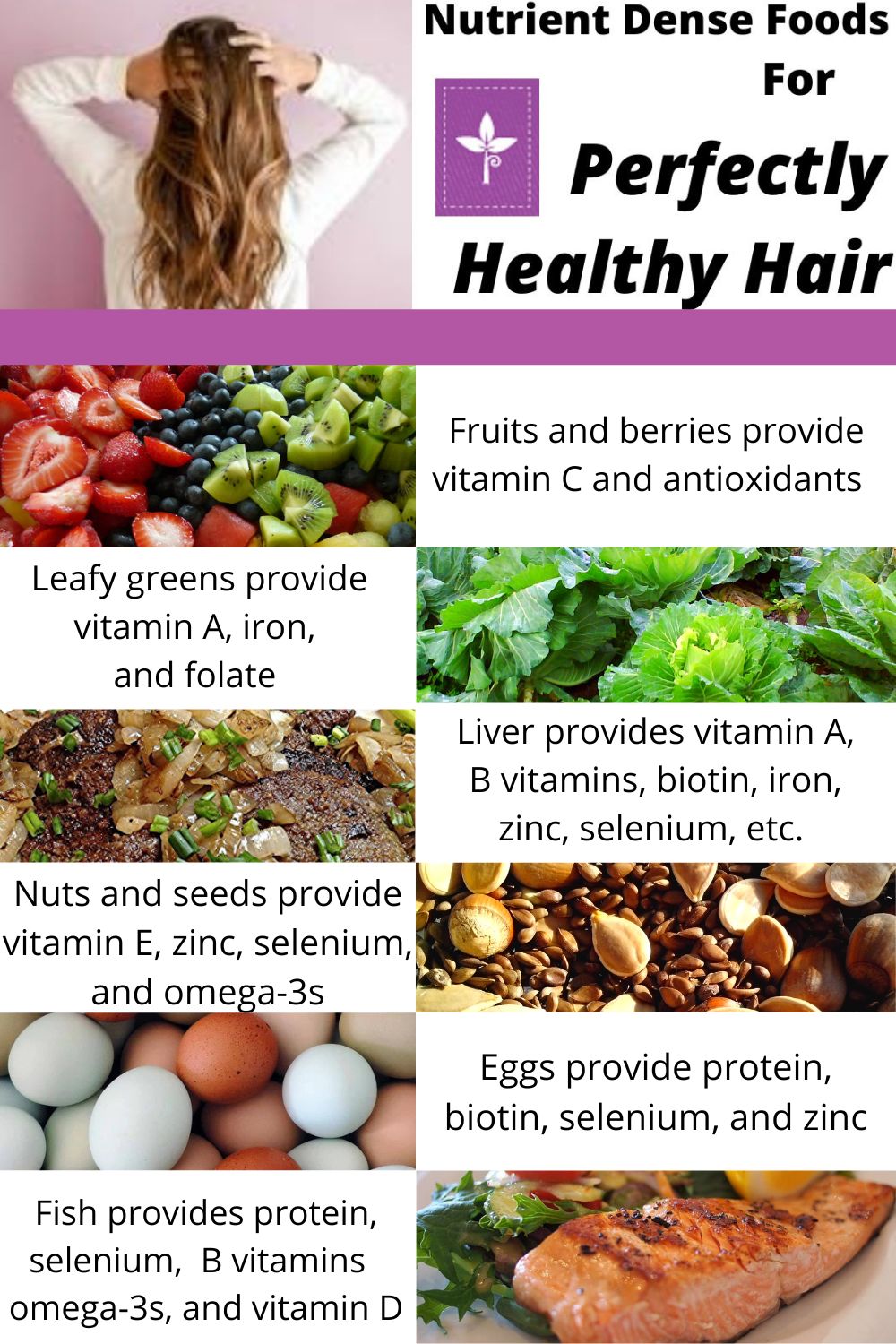 3. Supplement If the above suggestions are not providing the results you are looking for, additional supplementation is recommend. Perfect supplements has put together a bundle of products that are perfect for providing the essential nutrients needed for healthy hair and/or regrowth with great customer reviews and success stories!
Perfectly Healthy Hair: Supportive Supplements
Buy the Perfectly Healthy Hair Growth Bundle to save over 15%. It contains: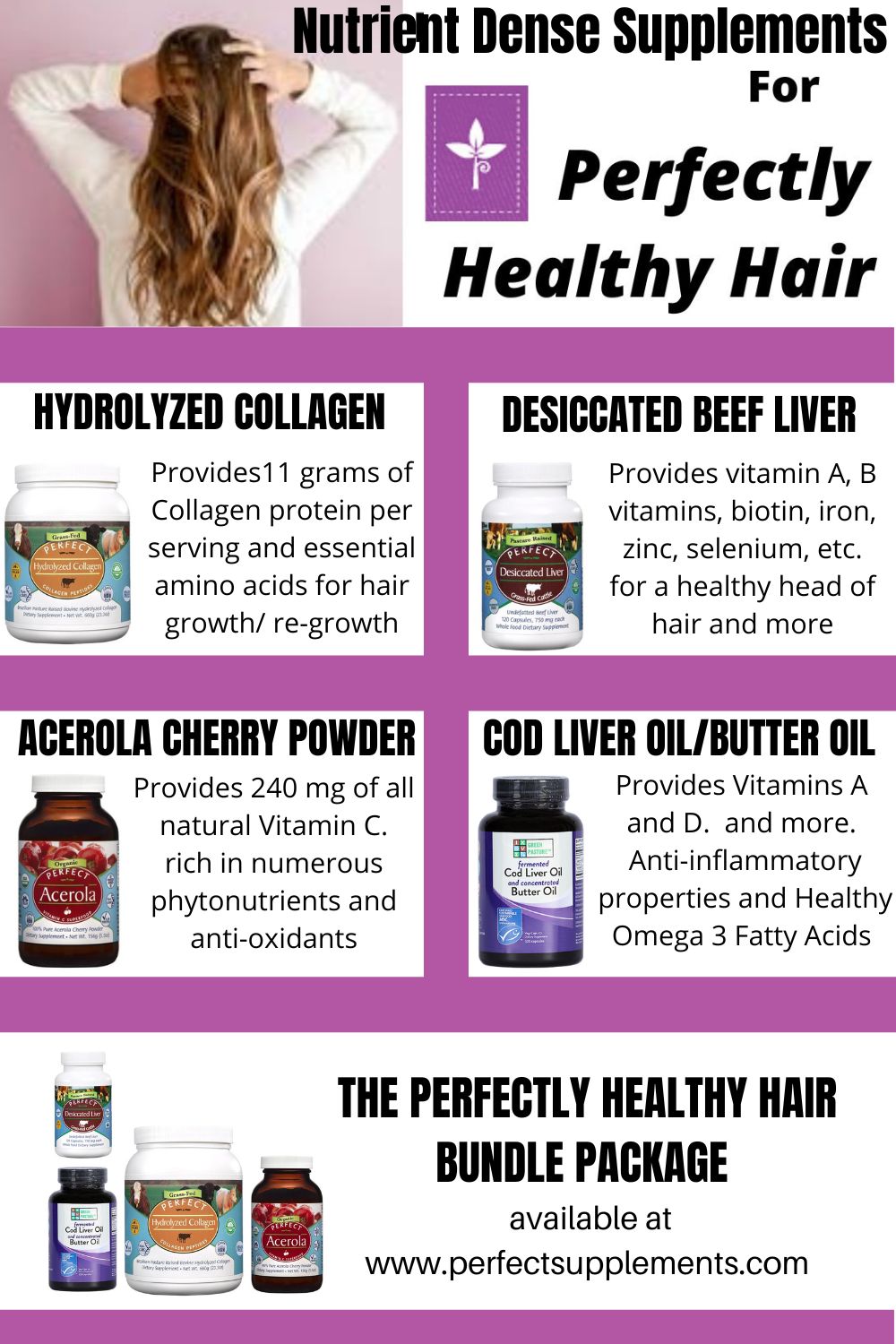 Hair Today, Gone Tomorrow
We hope this information is helpful for those looking to improve the health of their hair or support regrowth after loss due to environmental or medical reasons. Those who have had success report that it usually takes about a month to notice any kind of hair loss stopping then another month to notice hair regrowth and result will vary. If there are any breakthroughs on a cure for hereditary, male pattern baldness we will be sure to update this article! If you have a personal experiences please share your story with us!