Measuring Our Impact During Earth Day 2023
Earth Day was 4/22, but we believe our beautiful planet deserves much more than a day, it deserves a month of celebration! So, we declared April Earth Month and made a major push to up our sustainability game!
Perfect Supplements, since its start in 2009, has always been about sourcing only sustainably grown, all-natural nutrient dense ingredients. Respecting the planet and all it has to offer has always been at the core of our product formulation strategy.
In 2023, we know it is time to step up our sustainability efforts in other ways and wanted to share some of the actions we have taken in the past month to reduce our use of fossil fuels, protect the rainforests, decrease our use of plastic and clean up our rivers.
Goodbye Fossil Fuel, Hello Sunshine!
We are proud to announce in 2022 we had solar panels installed on the roof of our office and for all of 2023 we have been 100% powered by solar energy!
You might wonder, can one business going solar, really make a dent in coal production and carbon dioxide emissions? It's a fair question and these stats from April provide an answer…
By using solar energy in April, we…

We think that is a pretty impressive impact… and that was just for the month of April. We are thrilled to be working in an office that is no longer using fossil fuels. A nice little side bonus, we now have yet another reason to be happy when the sun is shining bright :)
Over 7,600 Acres of Brazilian Rainforest Protected in April

Give yourself a pat on the back for this one!
In April we ran a promotion where for every Planet Protected Immunity Bundle sold, we would donate $4.22 (in honor of Earth Day 4/22) to the Rainforest Trust.
Because of your amazing support, we were able to donate enough to protect over 7,600 acres of rainforest in Brazil. As the rainforest are the lungs of this planet, we really couldn't be more excited with this donation.
Remember, this is just what we did in April. Over the last few years we have worked with the Rainforest Trust to protect over 15,000 acres of rainforest and look forward to continuing these efforts into the future. Read more about our sustainability goals and actions here.
Ongoing Efforts to Reduce our Use of Plastic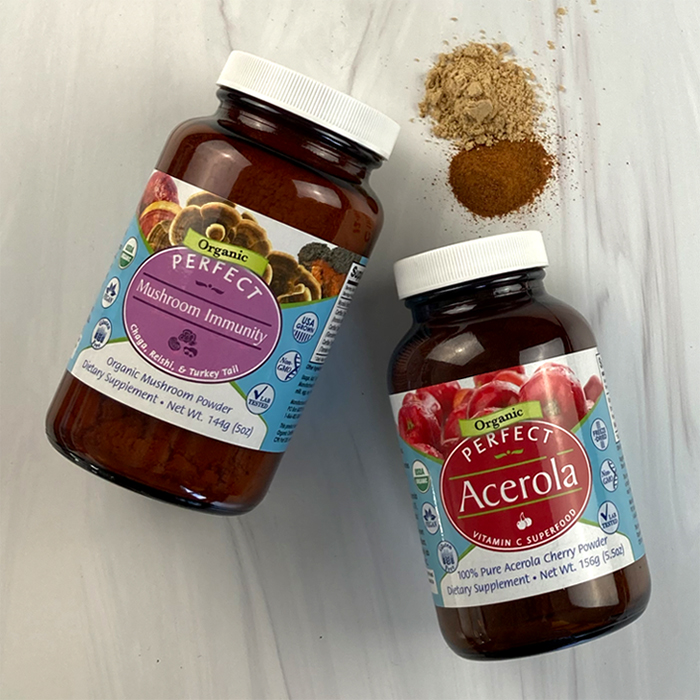 Eliminated all plastic wrap, peanuts and styrofoam from our shipping. This has been replaced with Biodegradable cardboard & paper and in-house recycled cardboard wrap that we create using our own perforator machine.
We are consciously making improvements in the sustainability of our outbound packaging materials.
Since 2020, every new product we have released is in recyclable glass bottles
Ongoing efforts to find more sustainable packaging for our existing product line
We understand there is much more work to be done here, which is why for the last 3 years we have been members of the OSC Packaging Collaborative, actively working with other like minded natural product companies to develop more sustainable package.
Don't Just Buy Local, Clean Local
Sometimes issues like climate change, river pollution, and sustainability in general can seem so complex, it's hard to know where to start. It can also feel like… our my efforts really going to make an impact?
Yes, yes they will!

On April 27 th, we organized a river cleanup day. Let me give you the very complex formula to pull this off…
Gave employees trash bags and gloves
Walked to the river down the road from the office
Picked up any trash we saw
In less than an hour, we had already picked up over 12 bags of trash!
It really is that easy to make a positive impact. In addition, some cars that passed us honked and waved in support of our efforts. Who knows, maybe that inspires those people to do a cleanup and the domino effect of doing good is started!
Let's Keep The Earth Love Going All Year Long
We are thrilled with what we were able to accomplish, with your help, in April. Still, we understand protecting and respecting this planet is something we need to do every day of the year.
It's time for us all to take action, after all, we only have one earth.
You can track the actions we are taking on our Sustainability Goals met page. Have ideas on how we can be better stewards of this planet? Awesome – hit us up on our Contact Us page- we would love to hear your ideas.
Looking to take action, but not sure where to start? Here are a few resources to get you going…
Official Earth Day Page – great lists of resources
Rainforest Trust – awesome way to help protect the rainforests
Simple Tips to Protect The Planet – easy ideas from NOAA
100 Things You Can Do To Save The Planet – nice list from the Sierra Club
Volunteer Ideas to Protect The Planet – a nice resource from Do Something
Plant Trees, Save The Planet – One Tree Planted, does just that, plants trees
We could keep going, but don't want to overwhelm you. Remember, any action at all is a step in the right direction!